At the Heartland Dragons Hockey Association (HDHA), we believe in an athlete-centred approach to teaching the game of hockey.  All of our coaches endeavour to develop players to the best of their ability, both on and off the ice.
We are one of six (6)  member associations within the Mississauga Hockey League (MHL).  Learning to play close to home makes the most sense, but you're not bound to a particular Association… you're free to choose.
If you're new to the game of Hockey and your son or daughter would like to get involved in the greatest game on ice, here are a few "quick facts" regarding the Heartland Dragons Hockey Association (HDHA) and why you should play for the HDHA:
We are a fully non-body-checking league. Player behaviour is closely supervised and monitored.
We cater to players aged four (4) through twenty (20) (boys & girls).
Why should your children play hockey? Hockey is a great way to get your children exercising; it improves coordination and gross motor skills as well as hand-eye coordination. Hockey teaches the value of teamwork, improves children's resilience and perseverance. They will make loads of new friends and have fun!
Who can join? Players of ALL abilities are welcome to our l Some children seem to start hockey as soon as they can stand on their own.  Other parents and children feel that they have missed out on the opportunity to play hockey and are too old to start.  We all develop differently and sometimes later than others.Acceptance is based upon space rather than skill level.  Even older players just starting will find an appropriate place in the HDHA to develop their full potential. Our House League provides four (4) competitive levels at each age group (Green, Blue, White and Red)  If you haven't played before, or even skated before, no worries… we'll find a spot for you where you'll learn the game and play with fellow players regardless of age or experience.
Is hockey affordable? House league is very affordable. Normally under $20 an hour. The hockey season basically lasts about six (6) months, but overall, the cost works out to about the cost of a coffee a day.   Click here to see our registration fees for the current season.The HDHA also provides subsidized Hockey Clinics for our interested players, covering specific skill development areas; learn to skate, shooting and stick-handling, and goalie clinics as well as full house league activities.
What equipment will you need? New players (and more experienced ones) do not need top of the line equipment.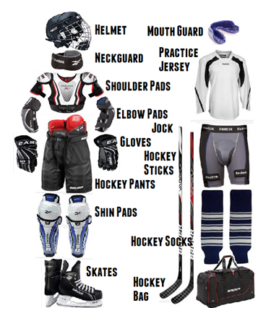 Regular socks and underwear, Jocks/Jills (pelvic protectors), shin guards, hockey socks, pants, skates, shoulder pads, elbow pads, hockey jersey, neck protector, mouth guard, helmet and gloves.
When you register to play for the HDHA, your team will provide you with free hockey socks and hockey jerseys.
To participate in the Junior Dragons Initiation Program full hockey equipment is a must! We at the HDHA provide new hockey equipment to our first time players who register with our program, outfitting each child with hockey gloves, pants, shoulder pads, elbow pads and shin pads for free, while supplies last.
HOKEH (Help Our Kids Enjoy Hockey) is an equipment exchange program where parents can exchange their player's outgrown equipment for either new/gently used equipment to keep their kids in hockey and help eliminate that expensive cost. New-to-hockey parents of players seven (7) to ten (10) years may also qualify for new/gently used hockey equipment.
All volunteers are supervised by the league and carry several credentials, including a Criminal Record Check and Respect in Sport training. There are also lots of coaching opportunities for aspiring Mom's and Dad' Coaching certification programs may be subsidized by the HDHA based on team requirements.
All of our games and practices will be played within the City of Mississauga, with the exception of some tournament games. Weekly practices will be held primarily at our Home rink, the Paramount Fine Foods Centre, whereas weekly games will be played throughout Mississauga, though a significant percentage will be played at our Home rink. Note:  All games and practices for our under seven (7) players will take place at our Home rink.
We want everyone to have an opportunity to play Hockey. That said, there are a number of financial support programs available where needed. Our Association also offers multiple sibling discounts.
Did we mention that we also have the coolest mascot of any hockey league. Just wait until you meet Drax!
If you have any questions, please contact us at info@heartlanddragons.com.