Hello Dragon Nation,
We are excited to share that KONGA 2023 Summer Camp Registration is now OPEN, effective May 1st, 2023.
Get your child(ren) ready for an exciting camp experience with Konga, where they get to participate in a variety of creative, fun, active and exciting games, songs, sports, arts, drama, outdoor challenges, martial arts classes taught by professionals and much more.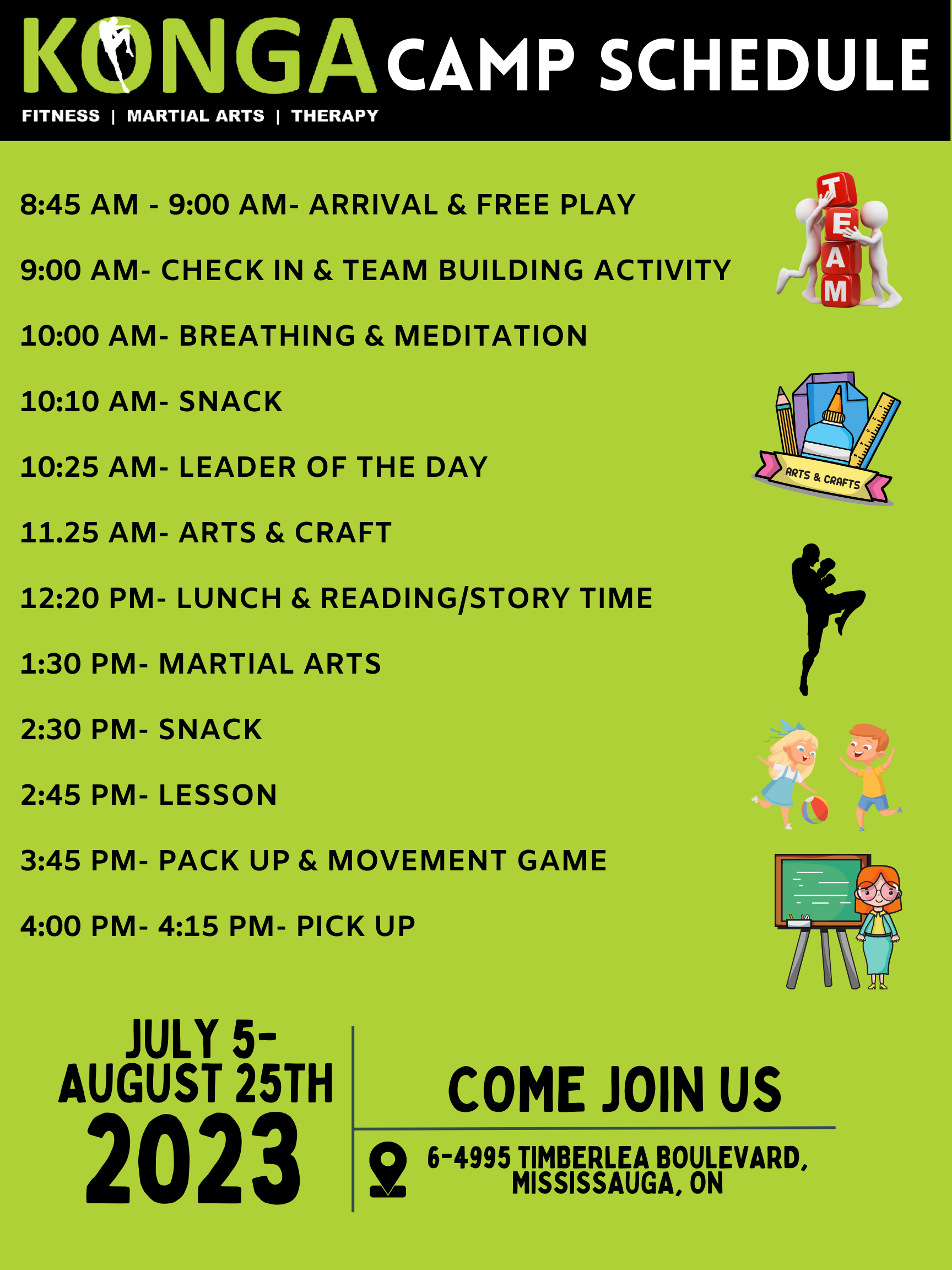 We look forward to providing the most positive experience for you and your child(ren). Please review our camp information below:
FULL-DAY CAMP – DATES, FEES, HOURS & EXTENDED CARE OPTIONS
• Camps are offered from July 5 to August 25, 2023, for ages 5-10 years old.
• Camp operates Monday – Friday from 9 am-4 pm and will not operate on Monday, August 2, 2023 (Civic Holiday)
• Camp Fees (Early Bird Pricing)-
• The cost is $285.00 all-inclusive, and $235.00 for the Short Week
• If you register for three weeks or more, the cost per week for one child will be $270 & $225 for the short week.
• $15 sibling discount available for second and third child
• Special price for the whole summer (8weeks) available – Contact us for more details
• Campers must be dropped off between 8.45am-9am and picked up promptly between 4:00- 4.15 pm Any late picks will result in a penalty of $12 per participant every 15 minutes.
• Once your child(ren) is registered, a camp newsletter detailing the weekly schedule, and general camp guidelines will be emailed out to you.
Front Desk Coordinator 
Konga Fitness- Martial Arts- Therapy
905-212-1212
647-894-9098